Low Monthly Payments Available
Many of those who come to us are excited for CoolSculpting and our other services for the changes it will produce on their face & body. Sometimes they also need options when it comes to paying for the investment and that makes total sense. This is why Cool Renew MedSpa has partnered with Cherry and Care Credit as a way to give you low monthly payment plans.
Both companies offer several plans to fit your budget and that even includes a up to ZERO % interest program! These payments can get as low as $90 a month which is only $3 a day. Heck, that is less than a cup of coffee at Starbucks for you to get the look you've want and deserve!
When you come in for you free consult, we will chat about CoolSculpting, ensure you are an ideal candidate, map out a treatment plan, show you our client before and after photos so you can see what CoolSculpting can do for you, talk about your investment, and see what makes sense financially if you decide to freeze away that stubborn fat.
Our team can walk you through all the options and plans. The BEST news is, you can fill out a short form to be pre-qualified, which is only a soft hit to your credit, so you can have complete transparency about your monthly payments and options.
We work with two primary places that have been excellent to work with, Cherry and CareCredit.
What is Cherry?
Cherry is a payment plan designed for your health, beauty, and wellness needs and procedures and allows you to make convenient monthly payments. Get treated now and pay over time with Cherry!
3 Reasons Why Patients Love Cherry :
Cherry qualifies patients for up to $10,000.00
There is no hard credit check
Cherry offers zero percent financing options as low as 0% promo APR and is subject to approval. Regular APR 9.99% – 35.99%. Down payment may be required.
How does Cherry work?
Cherry performs a soft credit check, which does not hurt your credit score, to determine approval amounts and contract type, as well as to verify applicant identity. Cherry may ask for additional information from some borrowers in order to determine approval amounts.
Patient Requirements:
Patients must be at least 18 years of age
Patients must have a valid bank issued debit card
APPLY WITH CHERRY, QUALIFY IN SECONDS:
What is CareCredit?
There's a pretty good chance you may already have a CareCredit card in your wallet. CareCredit has been a popular choice for clients to use for many types of medical, health, wellness and beauty needs.
It's quick and easy to apply and you'll get an instant credit decision. Once approved, you can start using your card right away and can use your CareCredit at over 210,000+ other places like the dentist, veterinarians, optometrists, etc.
Find out more and apply at: CareCredit.com

Ready to apply? Click below to get started: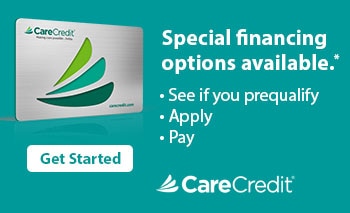 *Subject to credit approval. Minimum monthly payments required.